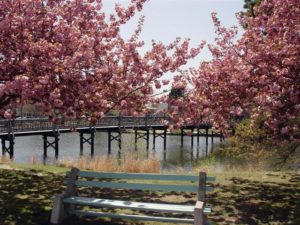 Spring Lake is a Borough in Monmouth County, New Jersey, United States. As of the United States 2000 Census, the borough population was 3,567.
Spring Lake was formed as a borough by an Act of the New Jersey Legislature on March 14, 1892, from portions of Wall Township), based on the results of a referendum held on March 8, 1892. On February 24, 1903, the borough of North Spring Lake was annexed.
During the so called "Gilded Age" of the late 19th and early 20th centuries, Spring Lake developed into a coastal resort for high society members of New York City and Philadelphia in a similar fashion to the settlements of Newport, RI and Bar Harbor, ME. A surviving example of architecture constructed during this era is the Martin Maloney Cottage on Morris Avenue next to the tycoon's former and no longer existent Ballingarry Estate. Another fine example is the Audenried Cottage on Tuttle Avenue.
The borough and its environs are known as the "Irish Riviera" because of the large Irish-American population in the area, with Spring Lake having the highest percentage of Irish Americans of any municipality in the United States.
Spring Lake is home to the Spring Lake 5 Mile Run, a race that circles the town beginning and ending at the beach front. It has more than 7,000 participants annually.
Excerpts Redistributed from Wikipedia, the Free Encyclopedia